The New Fall Schedule is out!!
Starting August 14th there will be NEW START TIMES to adjust for the later school day. Get your hands on a schedule today!
Congrats to the 2017 National Champions!!!
Eve Doudican
Reese Nix

Abigail Bertrem

Megan Moeller
Lauren Reed
Madison Shaffer
Eden Lau
Coaches and Athletes Seeking Excellence in Sport and Life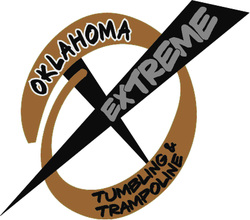 Welcome to Oklahoma Extreme Tumbling, LLC, Oklahoma's premier power tumbling and trampoline training program. OXT was established in late 2006 to meet the growing demand for an elite training facility in the South Tulsa area. OXT's mission is to deliver the ultimate training experience by providing the best coaching and equipment available in an atmosphere that promotes integrity, character, and sportsmanship.
TO DATE OXT has crowned 50 National Champions!!!!!
And 1 World Champion!!!
OXT has crowned 39 National Champions in the last 6 years!
OXT is home to Mackenzie Kulka, Bronze Medalist at the 2007 World Age Group Competition and Eve Doudican GOLD Medalist at the 2014 World Age Group Competition. A list of our National Champions are Kayla Adams, Brittney Bernard, Sarah Blotevogel, Cidney Boyd, Alex Browne, Bailey Bynum, Jason Carlson, Lauren Ciucci, Rachel Kiesau, Mackenzie Kulka, Max Lively, Lauren Luiskutty, Savannah Maddox, Tori Monnet, Trenton Norton, Emma Robson, Aubrey Rosencutter, Grace Schoolfield, Isabella Siewert, Morgan Stafford, Joslyn Stidman, Summer Thompson Eve Doudican, Jacey Vratil, Choyce Hays, Lauren Reed, Madison Shaffer, Eden Lau, Megan Moeller, Reese Nix, Abigail Bertrem and Jordan Webb. We also have past and current members of the Jumpstart National Team, ODP Team, EDP Team and world-class coach, Chauncy Haydon, tumbling coach for the 2007, 2008, 2009, 2010, 2014 and head tumbling coach for the 2011 World Age Group Competition.
In addition to our outstanding USAG competitive team, OXT offers a variety of recreational classes including trampoline, tumbling, and team cheer tumbling. Please take a few minutes to explore our site and discover what Oklahoma Extreme Tumbling, LLC has to offer you and Oklahoma's young athletes.
Contact us at 918-369-3938 or 918-664-FLIP
---
They finished their last practice...next stop
2015 U.S.Championships in Greensboro N.C.


GOOD LUCK TEAM!!!
---
Eve Doudican 2014 World Age Group Games Champion!!! What an incredible accomplishment!!! Way to Go EVE!!!!!
Spencer Reed and Cheyenne Kelly in Team USA gear!!

Oklahoma Extreme is very proud of Cheyenne Kelly and Spencer Reed. Our very own are leaving Sunday for Bulgaria to represent the USA in World Age Group competition. Spencer will be competing in the mens Jr . elite division on trampoline and Cheyenne will be competing in the Sr. Womens division on tumbling. We are hometown proud!!!! Bring home the Gold!!!
---
2013 Team Getting ready to rock Nationals in Kansas City
Tumble Tot class at OXT done right.
Christy Trying a Tumble Tot class.